The 'ETA' Executive Team Address
TERM 4 WEEK 7 REFLECTIONS
This week's reflection is the Executive Principal's contribution towards this year's Yearbook.
Adopt this as your fundamental creed:
"That you will equip yourself for life, not solely for your own benefit, BUT for the benefit of the whole community."
These are the words of General Sir John Monash, of whom the Monash University in Victoria and many
other institutions and buildings around the world are named after.
Monash is considered one of the best allied generals of the First World War and the most famous commander in Australian history. Sir John promoted the concept of the commander's duty to ensure the safety and well-being of his troops to a pre-eminent position in a philosophy of "collective individualism".
Collective Individualism is a philosophy whereby individuals are encouraged to flourish, be creative and be distinctive in order to serve for the greater good – a value that we hold in high esteem here at EACS. Sir John understood that the essence of a successful community was in the preparation and schooling of each individual; equipping them for life, in order that each individual may then add benefit to and serve the whole community.
Equipping yourself for life does not exclusively happen at school. Indeed, while there is a lot more that you can learn about life beyond the walls of Esperance Anglican Community School; I trust that your approach to and reason for equipping yourself for life and the ensuing development of your personal values have been further shaped this year by the values that underpin our School Community. I trust that the education instilled at EACS opens your heart and mind to the needs and care of others - that your God-given gifts and talents are poured out to serve others, and that in your connect within our community, your individual values are in turn shaped and enhanced by the Christian values that form the very foundation of our School.
Schools are special and strategic places where students have the opportunity to learn about the world, about each other and then, ultimately, about themselves. 2020 has been a difficult and very different year and our world is vastly no longer the same as it was 9 months ago. With change comes the creation of opportunities - opportunities to serve, to help, to contribute, to support, to promote, to resolve, to focus on solutions, to love, to give. We should always be driven to look for opportunities in the midst of every challenge.
Throughout 2020, the EACS staff have once again committed to serving our School community in the education of its students. They remain dedicated in ensuring that students are nurtured and supported to realise their strengths, to acknowledge their weaknesses and the value of serving others.
To our staff - you work in an exciting time in education; when teachers are no longer the founts of all knowledge, as knowledge is so quickly accessible, but where the relationships we develop with our students is more important than ever before. I thank you for your commitment to the students you teach and the care you show to those you don't. It is an honour to work alongside you.
All schools have a natural attrition of staff each and every year. At Esperance Anglican Community School, there are two staff members this year who have decided that it is their time to either take a more leisurely path in life and retire; or to serve at another school community. In 2020, our community will say goodbye to Miss Amelia Green, Mrs Melinda Ford, Mr Phil Shelton, Mr Geoff Usher and Mrs Christine Dowell.
I have no doubt that Amelia, Melinda, Phil, Geoff and Christine will be missed by the staff who remain as well as by the students and parents across our community. Amelia, Melinda, Phil, Geoff and Christine have provided an ongoing and substantial service to our community and have demonstrated care and concern for the parents, students and colleagues who they have served and worked with. While we will miss all of our departing staff, their collective and individual contribution to our School will not be forgotten. We wish them every blessing as they pursue other opportunities in 2021.
I suppose you would expect that, as the person responsible for our School, I would place a high importance on the achievement of exemplary grades and the associated attainment of 'success' of each student at the end of each academic year. The honest truth is that, through the responsibility of my position as Executive Principal of our School, and after many conversations with students and parents, I am increasingly aware that in the grand scheme of things, your grades and understanding of 'success' will not be the most important accomplishments you will make in life. Of course, I would hope that all of you feel that our School Community has assisted you in developing your talents and abilities throughout the year, an area that we as a School have so much to celebrate; however, it seems to me that what are most imperative are actually: keeping a clear perspective, and developing a keen reflection on the things that really make life worthwhile.
Students – you provide us with the joys, challenges, surprises, connections, interactions, and personal achievements that make working in schools truly the best profession that we have been blessed with. You are very fortunate to attend EACS and we are privileged that you do. Please continue to develop and grow into the stunning young adults that you have every potential to become.
As the Executive Principal, I rely on the Associate Principals to oversee the daily operational aspect of the School. Throughout this challenging year, Iain Clark and Lisa Marquis have performed exceptionally, dealing with the many difficulties of running a school, combined with the unusual and taxing requirements associated with implementing the many restrictions imposed on our school community as a result of the coronavirus. I would like to acknowledge and thank Iain and Lisa for their tireless work; for without their unwavering support, all of our tasks would be that much more difficult. It is often a thankless role being a member of the Executive Team but without their support,
determination and commitment to our community; many wonderful opportunities for our staff and students simply would not exist.
The development of a strong school community culture is very much supported by the committed activity and contribution of its Parents. I would to thank our Parents for their outstanding support of our School. Through the friendships forged by our parent body, we continue to build and strengthen our community. We are very thankful and extremely grateful for our parents' service and commitment to our community.
As our thoughts now turn to the holidays, the celebration of Christmas and time with family and friends, I would like to wish you a safe and wonderful holiday, a very special and Holy Christmas. We look forward and ahead to the commencement of 2021 with the many exciting opportunities that it will bring.
Every Blessing
Jason Bartell
EXECUTIVE PRINCIPAL
Student Achievements
National Inter-school Online Chess Finals
Congratulations to the following boys who represented EACS in this national event on Monday 30 November and Tuesday 01 December. The boys acquitted themselves admirably and EACS finished a gallant 16th out of 29 schools in the middle school competition.
Over two days the following boys played seven matches and participated in four lectures where they benefited from chess coaching and insight from top International Masters and Grandmasters.
| | |
| --- | --- |
| Year 7: | Ashton Davies, Winston Towell |
| Year 8: | Spencer Davies |
| Year 9: | Bailey Fiegert, Regan Mott, Ashton Rennie |
| Year 10: | Ashton Burnside |
Musical Soiree
This musical event was held last night Tuesday 01 December from 5.30-6.30pm in DMP. It was a very convivial and relaxed evening with some wonderful musicianship on display. It was a great turnout with about 60 parents and friends in attendance. Congratulations to all students involved on their efforts. Special mention to Mrs Saunders for coordinating the whole event and to Mrs Shipp along with a few select students for preparing delicious finger food throughout the course of the evening.
| | |
| --- | --- |
| Junior Band | Spitfire, Forrest Gump, Skeleton Dance |
| Item | Jack Muir |
| Item | Brass Ensemble |
| Item | Charlie Tate |
| Senior Band | Soul Sister, Gabrielle's Oboe, Bohemian Rhapsody |
| Item | Rebekkah Knox and Mia Holberton |
| Item | Jemima Wallace |
| Stage Band | Rock around the Clock, My Girl, I feel Good |
| Combined | Breakdance Brass |
| Bands | Tequila |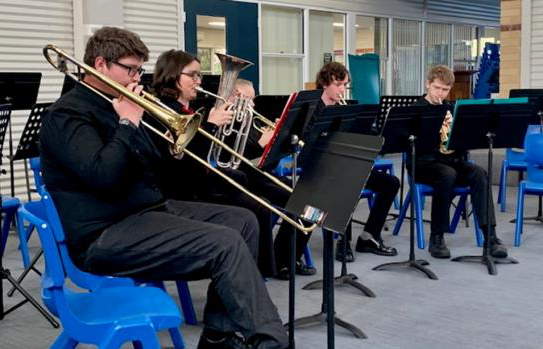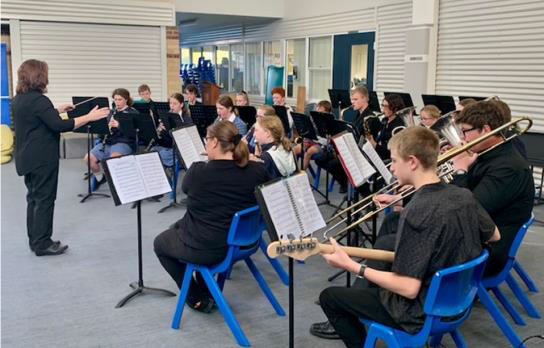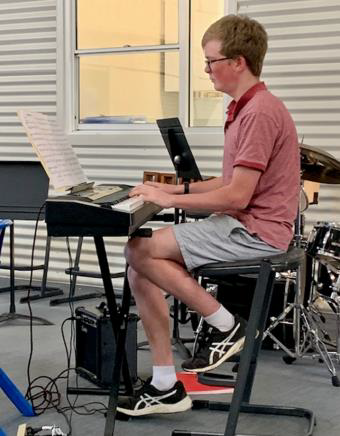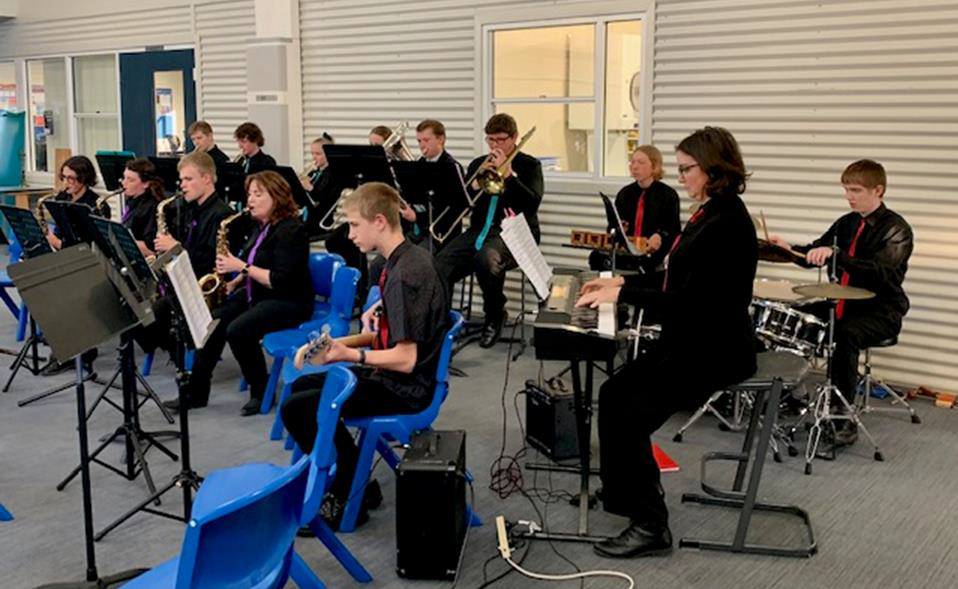 What's on this week (Week 8)
| | |
| --- | --- |
| Sunday | Inter-athletics departure for Albany |
Final week (Week 9)
| | |
| --- | --- |
| 07 December | Inter-school Athletics, Albany |
| 08 December | Executive Chair in School |
| 08 December | Executive Principal in School |
| 08 December | Celebration and Awards Evening |
| 09 December | Advanced Standing reward activity |
| 10 December | Last day of the year for students |
| 15 December | Semester Two Reports released |
Best wishes for the week ahead.

Jason Bartell
EXECUTIVE PRINCIPAL

Iain Clark
ASSOCIATE PRINCIPAL

Lisa Marquis
ASSOCIATE PRINCIPAL