The 'ETA' Executive Team Address
What's on this week (week 7)
| | |
| --- | --- |
| Monday | Homework Club 3.15-4.15pm in D1 (after school) |
| Tuesday | Year 7 vaccinations |
| Wednesday | Homework Club 3.15-4.15pm in D1 (after school) |
| Thursday | Homework Club 3.15-4.15pm in D1 (after school) |
| Friday | Chapel 7-9 |
Further ahead
| | |
| --- | --- |
| 23-25 March | Executive Principal in School |
| 23 March | World's Greatest Shave fundraiser |
| 23 March | WACE Parents Evening (5.30pm) |
| 24 March | Inter-school Swimming Carnival (Katanning) |
| 24 March | Open Morning (9.00-11.00am) |
| 24 March | Year 11/12 Parent Teacher evening (3.15-6.15pm) |
| 25 March | New Staff and Prefects Commissioning Service (Civic Centre) |
| 27 March – 01 April | Year 10-11 Careers Camp (Perth) |
| 28 March – 01 April | Year 7-8 Metricup Camp (Margaret River) |
| 01 April | Last day of term 1 (all students) |
| 02-19 April | School holidays |
| 20 April | Term 2 commences (all students) |
TERM 1 WEEK 6 REFLECTIONS
"Reputation matters"
At the commencement of the new school year students and staff were each given their respective goals for the year. Goals to be conscious of and motivated by in the pursuit of academic excellence and school improvement.
The student goal "Every lesson matters" is a poignant reminder for students to make the most of their
learning opportunities no matter what the situation or context.
The staff goal "Every student every lesson" is a poignant reminder for staff that individual differences must be embraced and catered for through our teaching practices and interpersonal relationship building with students.
And why is all this important? Because reputation matters and happy and content students and hardworking motivated staff help ensure a positive school culture of which we can all feel proud.
The best publicity for any school is word of mouth and this is never more important than in a small community such as Esperance. The positive sentiments expressed by students and parents within the community because of the value placed on an EACS education is critical when reflecting on
reputational credibility.
Reputation is something that is not a tick a box scenario. A school's reputation is only as good as the last piece of feedback gleamed. Reputation is something that is ever evolving from one day to the next. As a school we must continually strive to ensure that our reputation as a nurturing environment
for students to interact and learn is as strong as it can be.
Examples of happy and contented students and evidence of the strong bond between students in support of one another was ever present in our first Swimming Carnival since 2015 held last Wednesday at the Bay of isles Leisure Centre.
In particular the photo on the left is a powerful and moving endorsement of everything that we hope an EACS values-based education will instil in our students over time. Phoenix Fitzpatrick being supported by his friend Jesse Hart and School Captain Maddie McGrinder to finish his 25m freestyle
race was a definitive highlight (from many) over the course of the day.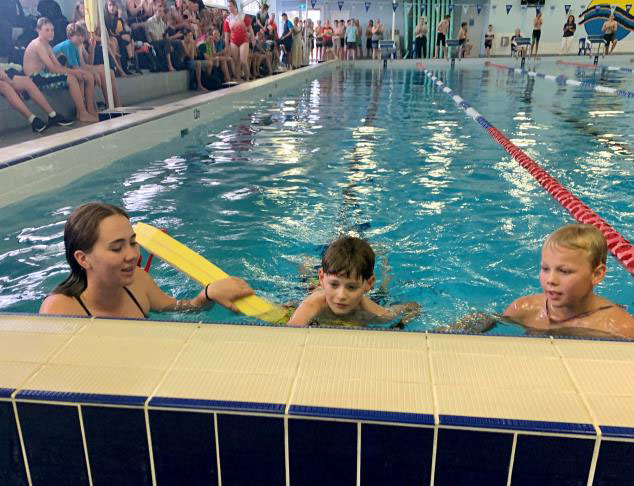 Maddie McGrinder, Phoenix Fitzpatrick and Jesse Hart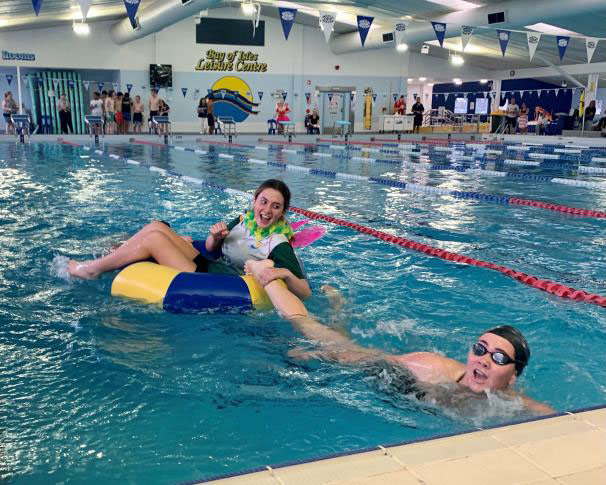 Maddie McGrinder and Maggie Scott
NOTICES
World's Greatest Shave
This year EACS is supporting the Leukaemia Foundation's fight against Blood Cancer. We will be facilitating a wax/shave event on Tuesday 23 March to help raise money in support of this worthy cause. The school has established a fundraising page and any donations are gratefully received. Donations over $2 are also tax deductible. To date we have raised $173 towards our target of $1000.
https://secure.leukaemiafoundation.org.au/registrant/TeamFundraisingPage.aspx?LangPref=en-CA&TeamID=122935
Year 11 and 12 WACE Parents Evening
This event is scheduled for Tuesday 23 March. It is a valuable opportunity for parents of year 11 and 12 students to attend to hear more about the Western Australian Certificate of Education (WACE) and the various post-school pathways on offer for students to pursue.
Open Morning
This event is scheduled for Wednesday 24 March. If you have friends or family who would like to know more about the school or who are considering an EACS education, please circulate the word and encourage them to attend.
Year 11 and 12 Parent Teacher meetings
This event is scheduled for Wednesday 24 March. This is an early opportunity to meet with Big Picture and subject Teachers to gain perspective on how your children is progressing on their senior secondary WACE journey. It is strongly advised for students to attend these meetings with their parents. Interviews can be scheduled through the 'School Interviews' portal in due course.
Staff and Prefects Commissioning Service
This event is scheduled for Thursday 25 March to be held at the Civic Centre. This is a whole school event and a formal occasion that is important in the life of the school with new staff and Prefects being commissioned. Parents and guests are most welcome to attend.
Year 7 and 8 Metricup Camp
This event is scheduled for Sunday 28 March – Thursday 01 April. A reminder to return the 'Consent: Additional Details' form by Wednesday 17th March and that that payment of $360 is due by Friday 19th March.
Homework Club
To further assist students with their learning needs Homework Club will take place on the following afternoons each week from 3.15-4.15pm in D1: Monday, Wednesday, Thursday. Two staff will be rostered on each day to help students with their homework requirements.
Best wishes for the week ahead.

Jason Bartell
EXECUTIVE PRINCIPAL

Iain Clark
ASSOCIATE PRINCIPAL

Lisa Marquis
ASSOCIATE PRINCIPAL