The 'ETA' Executive Team Address
What's on this week (Week 8)
| | |
| --- | --- |
| Monday | Pop-up Parliament Civics and Citizenship workshops (Year 7&8) |
| Tuesday-Thursday | Executive Principal in School |
| Tuesday | Education Perfect Languages Championships concludes |
| Tuesday | World's Greatest Shave fundraiser (12.30-1.00pm in DMP) |
| Tuesday | Inter-school Swimming Squad departs EACS (11.30am) |
| Wednesday | Inter-school Swimming Carnival in Katanning (return pm) |
| Wednesday | Open morning (9.00-11.00am) |
| Wednesday | Year 11/12 Parent Teacher meetings (3.15-6.00pm) |
| Wednesday | WACE Parents Evening (6.15-7.00pm) |
| Thursday | Staff & Prefects Commissioning Service at the Civic Centre (10.30-11.30am) |
| Sunday | Year 7-8 Metricup Camp departs (Margaret River) |
| Sunday | Year 10-12 Careers Camp departs (Perth) |
Further ahead
| | |
| --- | --- |
| 01 April | Last day of term 1 (all students) |
| 02-19 April | School holidays |
| 20 April | Term 2 commences (all students) |
TERM 1 WEEK 8 REFLECTIONS
Parents views on The Role of School Education
A nationwide poll carried out by the Australian National University in November 2020 asked parents and carers on their views on what should and should not be the responsibility of schools. The top five responses are shown below.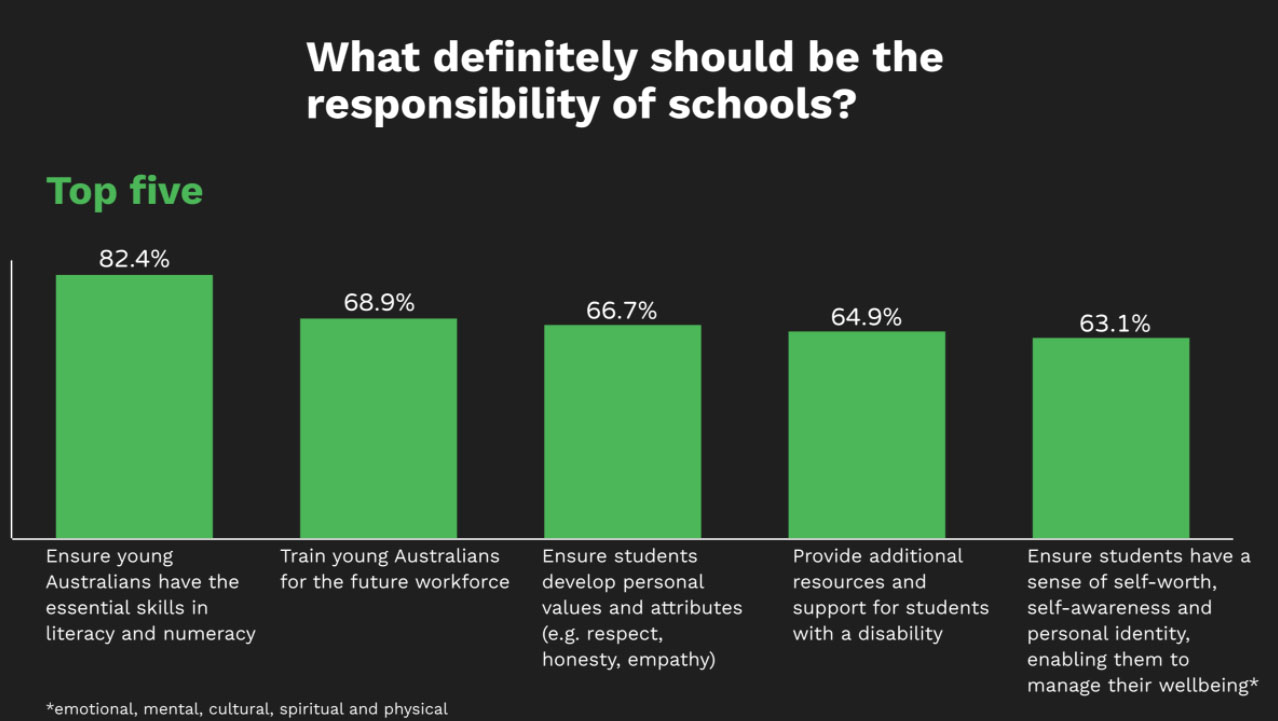 Jo Earp 'Teacher Magazine' (March 12, 2021)
It is these top five responses that give cause for this week's reflections in considering how these elements are addressed at EACS.
Ensure young Australians have the essential skills in literacy and numeracy (82.4%)
At EACS we recognise that literacy and numeracy must ALWAYS remain core in our curriculum planning considerations due to its importance in providing students with a solid foundation for future life and learning. Via our school improvement focus on Analysis and Discussion of Data throughout 2021 into 2022 staff professional development will become more intuitive in ensuring that data gathered is instructional in informing differentiated learning opportunities for our students with literacy and numeracy core to this purpose.
Train young Australians for the future workforce (68.9%)
Careers' exploration is facilitated during Health and Big Picture classes. This helps students to refine their course of study choices heading into their senior secondary years, but it also helps to create other avenues of vocational study and community engagement via the workplace learning / internship agenda.
Ensure students develop personal values and attributes e.g. respect, honesty, empathy (66.7%)
Values based teaching occurs across the school in accordance with the core purpose and philosophy of the Anglican Schools Commission (Inc.) which endeavours to provide a high-quality, inclusive, caring Christian education.
The values are:
FAITH Living by Gospel values.
EXCELLENCE Pursuing high standards in all things.
JUSTICE Demonstrating fairness, compassion and conviction, advocating for the educationally disadvantaged.
RESPECT Respecting self, others and our planet.
INTEGRITY Acting with honesty and openness.
DIVERSITY Promoting social inclusion and celebrating difference This philosophy provides the strong and secure foundation upon which the mission and goals of Esperance Anglican Community School are built according to our specific needs.
Provide additional resources and support for students with learning needs (64.9%)
Additional initiatives and learning resources used in school to support students with learning needs include:
Australian Council of Educational Research (ACER) Progressive Achievement Tests (PAT) to diagnose areas of strength and weakness against nationally standardized norms. Data is then used to provide targeted learning plans for groups of students.
Additional classes created in Year 7&8 literacy and numeracy to provide for a more intimate learning environment for those students requiring significant modification to the curriculum.
MaqLit Reading intervention program to consolidate basic phonetical concepts and pronunciation strategies.
Education Perfect to enable Teachers to differentiate learning to specific individuals or groups of students.
After-school Homework Club scheduled three afternoons each week to support all students with their classwork and assessments (Monday, Wednesday, Thursday)
Ensure students have a sense of self-worth, self-awareness and personal identity, enabling them to manage their wellbeing (63.1%)
30 minutes of dedicated pastoral care (Advisory) time is scheduled at the start of each day throughout the week. This also incorporates assembly and chapel services. Each student is allocated to an Advisory group with an Advisory Tutor who is a staff member who, over time, develops a strong rapport and relationship with each child.
During Advisory Child Protection Curriculum: 'Keeping Safe' is taught to help students reflect on aspects of mental health, but also their relationships with others. The KS:CPC is
predicated on two main themes which are presented through topics and activities of increasing complexity. The two KS:CPC Themes are:
Theme 1: We all have the right to be safe
Theme 2: We can help ourselves to be safe by talking to people we trust.
The two KS:CPC Themes are explored through four Focus Areas, which are examined in growing complexity in accordance with the age of the students. The four KS:CPC Focus Areas
are:
Focus Area 1: The right to be safe
Focus Area 2: Relationships
Focus Area 3: Recognising and reporting abuse
Focus Area 4: Protective strategies
This term the Social-Emotional Wellbeing (SEW) Survey was undertaken across the school to identify environmental and personal factors that influence social-emotional wellbeing of young people. Data collected, both within year groups and across the school, will be reflected upon and used to consolidate learning programs to better address identified issues around student wellbeing.
NOTICES
World's Greatest Shave
This year EACS is supporting the Leukaemia Foundation's fight against Blood Cancer. We will be facilitating a wax/shave event on Tuesday 23 March to help raise money in support of this worthy cause. The school has established a fundraising page and any donations are gratefully received. Donations over $2 are also tax deductible. To date we have raised $173 towards our target of $1000.
https://secure.leukaemiafoundation.org.au/registrant/TeamFundraisingPage.aspx?LangPref=en-CA&TeamID=122935
Open Morning
This event is scheduled for Wednesday 24 March. If you have friends or family who would like to know more about the school or who are considering an EACS education, please circulate the word and encourage them to attend.
Year 11 and 12 Parent Teacher meetings
This event is scheduled for Wednesday 24 March. This is an early opportunity to meet with Big Picture and subject Teachers to gain perspective on how your children is progressing on their senior secondary WACE journey. It is strongly advised for students to attend these meetings with their parents. Interviews can be scheduled through the 'School Interviews' portal in due course.
Year 11 and 12 WACE Parents Evening
This event is scheduled for Wednesday 24 March. It is a valuable opportunity for parents of year 11 and 12 students to attend to hear more about the Western Australian Certificate of Education (WACE) and the various post-school pathways on offer for students to pursue.
Staff and Prefects Commissioning Service
This event is scheduled for Thursday 25 March to be held at the Civic Centre. This is a whole school event and a formal occasion that is important in the life of the school with new staff and Prefects being commissioned. Parents and guests are most welcome to attend.
Year 7 and 8 Outdoor Adventure Camp (Metricup, Margaret River)
This event is scheduled for Sunday 28 March – Thursday 01 April. A reminder that students are to arrive at EACS by 5.30am for a 6.00am departure. Please make payment to the front office ASAP if you haven't already done so.
Year 10-12 Careers Camp (Perth)
This event is scheduled for Sunday 28 March – Thursday 01 April. A reminder that students are to arrive at EACS by 6.45am for a 7.00am departure. Please make payment to the front office ASAP if you haven't already done so.
Homework Club
To further assist students with their learning needs Homework Club will take place on the following afternoons each week from 3.15-4.15pm in D1: Monday, Wednesday, Thursday. Two staff will be rostered on each day to help students with their homework requirements.

Jason Bartell
EXECUTIVE PRINCIPAL

Iain Clark
ASSOCIATE PRINCIPAL

Lisa Marquis
ASSOCIATE PRINCIPAL