The 'ETA' Executive Team Address
TERM 2 WEEK 2 REFLECTIONS
The Anzac Spirit lives on
In arguably what is the most important national day it was great to see Australia unite across the country in support of our armed services on Anzac Day. Whilst Anzac Day has looked quite different over the past two years with COVID-19 restrictions in place, it has certainly, thankfully, not dampened people's resolve or spirits to pay their respects whilst reflecting on the freedoms and liberties which we all take for granted and enjoy. Freedoms which came at a great cost for countless thousands of brave men and women who served and who paid the ultimate price in laying down their lives for their country.
The legend of Anzac was born on 25 April 1915 and was reaffirmed in eight months' fighting at Gallipoli. Although there was no military victory, the Australians displayed great courage, endurance, initiative, discipline, and mateship. Such qualities came to be seen as the Anzac spirit (awm.gov.au)
In total 8709 Australian lost their lives in the Gallipoli campaign, which accounted for 14% of all lives lost in the First World War. The Gallipoli campaign was a significant event for all Australians, and it has become a powerful symbol of nationalism, helping to shape our national identity ever since.
Attendance and participation of children in various capacities at both the dawn and main Anzac Day services was pleasingly evident. There was a sense of duty and solemn respect for the occasion with representatives from the Cadets and the Scouts as well as from the local primary and secondary schools, all playing an active role in the services. Countless other children attended with their families.
This sense of duty and responsibility was no better upheld than from School Captains Sarah Curnow and Maddie McGrinder, who fulfilled their duties with great distinction. Not only did the girls look great in their newly appointed Prefect blazers, but they demonstrated qualities which reflected well on themselves and on their School. Thank you, girls. Your efforts were hugely appreciated.
Thank you to all those parents who reinforce with their children the significance of Anzac Day and the importance behind why we commemorate and pay our respects each year. In Esperance, both the Dawn Service and the main Anzac Service were well supported. Disappointingly, the majority of EACS students indicated that they didn't attend Anzac Day this year, which is something that I hope they seek to make amends for in future years.
Whilst memories fade, the spirit of the Anzac legend must always live on and it is our duty as parents and adults to ensure that our children appreciate, but also understand the significance of Anzac Day, in remembering the fallen for evermore:
"They shall grow not old, as we that are left grow old; Age shall not weary them, nor the years condemn. At the going down of the sun and in the morning We will remember them." Lest we Forget!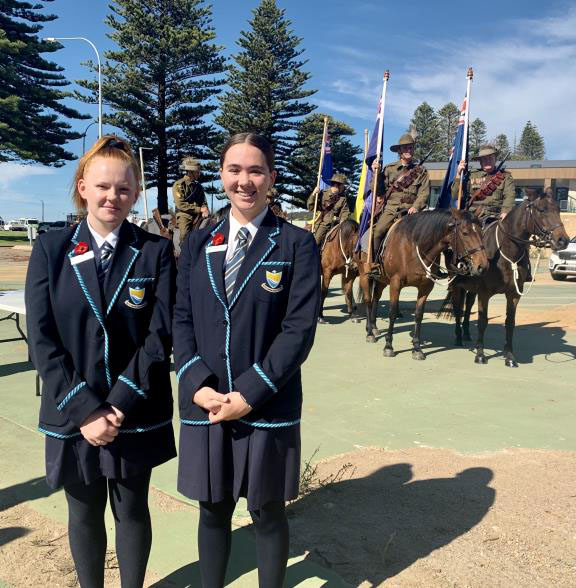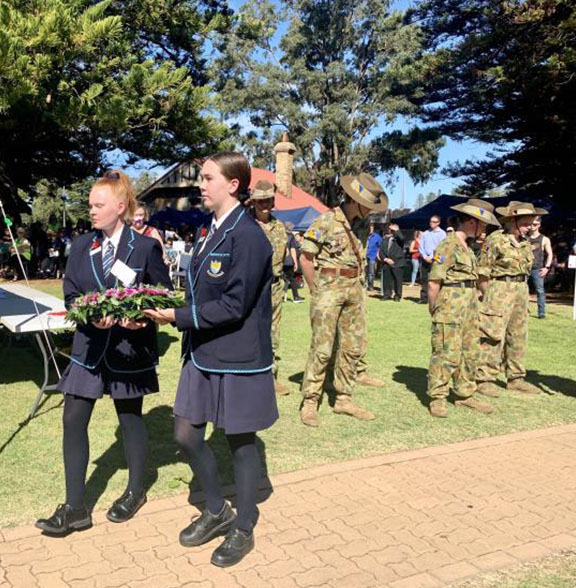 School Captains Sarah Curnow and Maddie McGrinder
NOTICES
Winter Uniform
All students are required to wear formal Winter uniform throughout term's 2 and 3. This said there is a transition period of two weeks when students may continue to wear Summer uniform should they so wish. By Monday 03 May (start of week 3) all students should have made the full transition into Winter uniform.
School blazers are mandatory uniform items to be worn during term's 2 and 3. Spray jackets may only be worn over the top of blazers to shield from the elements to stay dry and keep warm. Spray jackets are NOT a substitute for the school blazer.
Upcoming calendar events
| | |
| --- | --- |
| 4-6 May | Executive Principal in School |
| 5-6 May | Netball Cup, Katanning |
| 7 May | 7-9 Chapel |
| 10 May | Full changeover into Winter School Uniform |
| 11-14 May | NAPLAN Online testing |
| 13 May | UWA Health and Medical Sciences presentation |
| 14 May | 10-12 Chapel |
| 17-21 May | NAPLAN Online catch-up testing |
| 17 May | Rotation 2 electives commence (Year 7&8) |
| 19-20 May | Anglicare 'Poverty and Inequality' workshops |
| 21 May | 7-9 Chapel |
| 26 May | Inter-house Cross-Country Championships |
| 28 May | 10-12 Chapel |
| 31 May - 04 June | 10-12 Semester Exams |
| 01-03 June | Executive Principal in School |
| 04 June | 7-9 Chapel |
| 11 June | 10-12 Chapel |
| 17 June | Inter-school Cross-Country Championships |
| 18 June | 7-9 Chapel |
| 22-24 June | Executive Principal in School |
| 24-25 June | Universities visit |
| 25 June | Advanced Standing Reward luncheon |
| 27 June – 02 July | Country Week (Perth) |
| 02 July | Term 2 ends |
| 06 July | Semester 1 Reports released |
Best wishes for the week ahead.

Jason Bartell
EXECUTIVE PRINCIPAL

Iain Clark
ASSOCIATE PRINCIPAL

Lisa Marquis
ASSOCIATE PRINCIPAL