The 'ETA' Executive Team Address
TERM 2 WEEK 5 REFLECTIONS
Servant Leadership
During a recent Prefect meeting Mr Bartell spoke to the Student Leadership Group about what it means to be a Leader focussing on the principles of 'Servant Leadership'.
Servant leadership traces its origins to Robert Greenleaf's 1970 essay, "The Servant as a Leader," where Greenleaf describes servant leadership as:
"The servant-leader is servant first... It begins with the natural feeling that one wants to serve, to serve first." Servant leadership flips the typical leadership script by putting people ahead of power. A servant leader prioritizes the team's/community's growth and well-being, letting their own needs and ambition take a backseat. (Robert Greenleaf, 1970)
The underpinning Principles of Servant Leadership include:
1. Listening - Listening is at the heart of servant leadership. It allows people to feel valued.
2. Empathy- A lot goes into empathy, but when it comes to servant leadership, it basically comes down to getting to know your Team/community. Find out what motivates them and learn their strengths and weaknesses. That way you can let your team/community shine and maybe even help them turn their weaknesses into strengths.
3. Foresight - Look for opportunities to lead. Your leadership should define the legacy that you will leave EACS.
4. Stewardship Stewardship is simply leading by example. It's a Leader's job to set the tone for your team/community.
5. Commitment to the growth of people - If you want your team to grow, you've got to invest in people. One simple way we do this is by providing opportunity for others to lead, to participate, to grow.
6. Building community - Teams who trust each other, work together to get more done. That's why it's important to cultivate relationships among your team. It is also important to look for opportunity to build on the positive community we have here at EACS and 'share' this with the wider community of Esperance.
This year's Prefects (Sarah Curnow, Jerri Gaebler, Hannah Ietto, Kirsten McCrea and Maddie McGrinder) have made a positive start on their leadership journey embracing leadership activities, tasks and roles. We hope that the principles of Servant Leadership will form part of their core undertaking in all that they do as student leaders of EACS in 2021.
NOTICES
Anglicare One Workshops
It Only Takes One, Anglicare WA's community education initiative, raises awareness of critical social issues and empowers young people to see themselves as part of the solution. Through presentations and interactive exercises, young people are equipped with the knowledge and skills they need in order to make a positive difference in their community.
The first of three workshops on 'Healthy Relationships' took place in week 1 of Term 2. This week the It Only Takes One will be facilitating the second of three workshops with students on 'Poverty, Inequality & Homelessness', according to the following breakdown of topics:
| | |
| --- | --- |
| Year 7 | Poverty and Inequality/td> |
| Year 8 | Homelessness |
| Year 9 | Advocacy |
| Year 10 | Homelessness |
| Year 11 | Job Seeker allowance |
| Year 12 | Privilege, Rights and Action |
In Term 3 the final It Only Takes One workshop on 'Mental Health' will be facilitated.
SES and VFRS Excursion
On Tuesday 18 May Year 11 and 12 students will participate in a service-learning excursion to the State Emergency Service (SES) and Volunteer Fire and Rescue Service (VFRS) operations facility on Brazier St. This excursion will be a great opportunity for students to gain an insight into the operational capacity and inner workings of our regional emergency services when reacting to large scale emergency events. It will also a good opportunity for students to consider other avenues of potential career exploration.
Year 9 Government and Democracy Talk
This Wednesday 19 May we have been lucky enough to secure a visit from Federal member for O'Connor Rick Wilson to speak with Year 9 about Government and Democracy and the Australian Parliamentary system. Students have been learning about Government and Democracy through their study of Civics and Citizenship in HASS this term. Mr Wilson's visit will be a timely and valuable opportunity for our students to ask some questions of our Federal member.
National Curriculum Review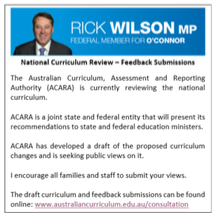 What's on this week (Week 5)
| | |
| --- | --- |
| Monday | Whole school assembly/td> |
| Monday | Rotation 2 electives commence (Year 7&8) |
| Tuesday | SES and VFRS Emergency Response Excursion (Year 11&12) |
| Wednesday | Rick Wilson MP Government and Democracy talk to Year 9 |
| Wednesday | Anglicare 'Poverty and Inequality' workshops |
| Thursday | Anglicare 'Poverty and Inequality' workshops |
| Friday | 7-9 Chapel |
Upcoming calendar events
| | |
| --- | --- |
| 26 May | Inter-house Cross-Country Championships/td> |
| 28 May | 10-12 Chapel |
| 31 May - 04 June | 10-12 Semester Exams |
| 01-04 June | Executive Principal in School |
| 02 June | Open Morning |
| 04 June | 7-9 Chapel |
| 11 June | 10-12 Chapel |
| 17 June | Inter-school Cross-Country Championships |
| 18 June | 7-9 Chapel |
| 22-24 June | CEO of the ASC and Executive Principal in School |
| 24-25 June | Universities visit |
| 25 June | Advanced Standing Reward luncheon |
| 27 June – 02 July | Country Week (Perth) |
| 02 July | Term 2 ends |
| 06 July | Semester 1 Reports released |
Best wishes for the week ahead.

Jason Bartell
EXECUTIVE PRINCIPAL

Iain Clark
ASSOCIATE PRINCIPAL

Lisa Marquis
ASSOCIATE PRINCIPAL