School Crest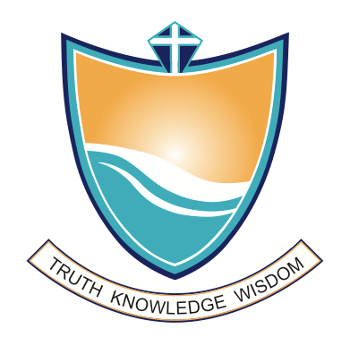 The Esperance Anglican Community School crest takes the form of a shield - a traditional design often used by church-based schools. The three points of the shield represent God the Holy Trinity - Father, Son and Spirit.
Sitting atop the shield is a cross, representing Jesus Christ. The cross is placed on the front of a Bishop's mitre, a symbol of the Christian church. The cross and mitre remind us that the School is founded on the Gospel of Jesus Christ and part of the Anglican Church in the Diocese of Perth, under the authority of the Archbishop.
Within the shield you find the flavour and colour of Esperance. The abundant southern ocean in the south (represented in blue), with its waves (represented in white) rolling onto the shoreline and beaches at West Beach (represented in gold). The sun, the source of life and energy, is seen setting over the western horizon.
The shield reminds us of God's goodness in creation, and of our responsibility to be good stewards of the environment in which we live.
The School crest is based on an original design by The Reverend Peter Laurence, Chief Executive Officer, the Anglican Schools Commission (Inc).
Our School colours are: