Students
Honour Board
2019
Head Girl – Shaj Varea
Head Boy – Zachary Fox
2018
Head Girl – Darby Smith
Head Boy – Harrison Tobin
2017
Head Girl – Yasmin Austen
Head Boy – Cameron Williams
2016
Head Girl – Lucy Gardiner
Head Boy – Troy Edwards
2015
School Captain – Angel Bock
Vice-Captain – Anthony Rushton
2014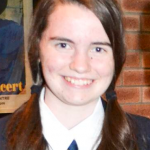 School Captain – Julie-Ann Ross
Vice-Captain Paul Sharpe
2011-2013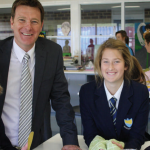 School Captain – Nicole Collins
Nicole Collins (pictured above) has been chosen by the staff to be EACS' inaugural School Captain. Nicole is an outstanding student who leads by example. The School Community is very much looking forward to Nicole's contribution throughout 2011 and for many years to come. We wish her well in her new role and are looking forward to supporting her as she leads the students throughout this year. ~ Jason Bartell, Principal, February 2011
In naming our School Houses, we have chosen to honour outstanding Australians with strong ties to W.A. who reflect the core values of our school; academic excellence, high quality opportunities in the arts and sport, and the development of young people of faith, service and integrity.
Goldsworthy has been named in honour of Bishop Kay Goldsworthy to recognise Esperance Anglican Community School's commitment to Christian education, and because she embodies the very qualities of faith, service and integrity that we seek to develop in our young people.
Kay Goldsworthy is a bishop of the Anglican Diocese of Perth, Western Australia. She became the first woman to be consecrated as a bishop in the Anglican Church of Australia at St George's Cathedral, Perth on 22 May 2008. Bishop Goldsworthy was previously a School Chaplain and ordained as one of Australia's first female Anglican priests in 1992. The Goldsworthy House colour is purple.
Jackman has been named in honour of Hugh Jackman to support Esperance Anglican Community School's commitment to co-curricular opportunities and development for our young people in the arts and sport.
Hugh Jackman is an Australian actor and producer who is involved in film, musical theatre, and television. As a philanthropist, Jackman is a long-time proponent of microcredit – the extension of very small loans to prospective entrepreneurs in impoverished countries. Jackman is a global advisor of the Global Poverty Project and he supports The Art of Elysium and the MPTV Fund Foundation. Jackman has shown keen interest in sports. In high school, he played rugby union and cricket, took part in high jumping and was on the swimming team. He also enjoys basketball and kayaking.. Jackman plays the piano, does yoga, and has been a member of the School of Practical Philosophy since 1992.
Source: Wikipedia
The House colour is red.
Wood has been named in honour of Dr Fiona Wood to affirm Esperance Anglican Community School's commitment to academic excellence.
Dr Fiona Wood, AM was Australian of the Year in 2005, is Western Australia's only female plastic surgeon, and is head of the Royal Perth Hospital's Burns Unit and the Western Australian Burns Service. In addition, Dr Wood is a Clinical Professor with the School of Paediatrics and Child Health at the University of Western Australia. She has displayed an outstanding commitment to science and medicine. Professor Wood was voted the most-trusted Australian in a poll for three successive years from 2005 to 2007. The Wood House colour is green.