School Information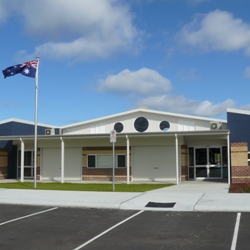 EACS opened in February 2008 for Year 8 students. The School currently offers three streams of secondary schooling from Years 7 to Year 12.
The School has followed the pattern of growth below:
2008 Year 8
2009 Years 8-9
2010 Years 8-10
2011 Years 8-10
2012 Years 8-11
2013 Years 8-12
2014 Years 8-12
2015 Years 7-12
Years 7 to 9 form our Middle School with a specific emphasis on the needs of students as they progress through early adolescence.
Our Middle School allows students to have a smooth transition from their more structured primary schooling environment to the flexible pathways and academic demands of the Senior School.
Our Middle School teachers have a special interest in the education of young adolescents and teach a range of subjects. They also have a major pastoral responsibility for the students in their classes. In our Middle School we aim to have close frequent contact between Head of Middle School (when appointed – at present the Principal), class teachers, students and parents.
All students study the same core program in Years 7 and 8, with some choice being introduced in Year 9 to enable students to determine their interests and abilities before selecting a more specialised course in the senior phase of schooling.
Students in our Senior School (Years 10, 11 and 12) will have the opportunity to progress along appropriate pathways to prepare them for life after school.
We aim to keep our curriculum broad and balanced to give each student the chance to discover their talents and develop them to the full. In Years 8 to 10 all students study Mathematics, Science, English, SOSE, Religion and Values, Italian P.E., and Health. Our elective system in Years 8 to 10 provides students with the opportunity to study a wider range of more practical subjects: Performing Arts, Visual Arts, Music, Food Technology, Woodwork, Metalwork, Multimedia, Dance, Physical Recreation are all available. In Years 11 and 12 our WACE programme provides a similarly broad range of opportunity: English, Geography, History, Religion (all students take), Visual Arts, Workplace Learning, Chemistry, Food Science technology, Human Biology, Integrated Science, Mathematics, Physics, Outdoor Education, Child & Family Care and Critical & Creative Thinking (all students take).
Esperance Anglican Community School will also offer Vocational, Education and Training courses in co-operation with our TAFE partner, with workplace learning being an option for students in Years 11 and 12. A strong relationship with local employers ensures students have access to local workplace learning placement during the years as well as School Based Traineeships and Apprenticeships.